NOBODY DOES "MOON RIVER" BETTER THAN TIFFANY'S
To celebrate Reed Krakoff's first collection for the brand (as chief artistic officer), Tiffany & Co. brought in a star-studded roster of artists for the campaign. For the first time ever, the jewelry brand released a song available to play on Spotify. And it's not just any track, it's an updated version of "Moon River" — the song synonymous with Audrey Hepburn's Breakfast at Tiffany's. In the campaign filmed by Hunger Games director Francis Lawrence, Elle Fanning starts singing as she re-enacted Hepburn's opening scene from Breakfast at Tiffany's (she really is a triple threat). The black-and-white footage then takes a turn as rapper A$AP Ferg adds his verse, and New York is suddenly lathered by Tiffany Blue colors. ~ L'OFFICIEL
A behind-the-scenes look at the recording of our original remix of "Moon River" with hip-hop artist A$AP Ferg and Elle Fanning. The song, also with original lyrics by A$AP Ferg, is featured in our latest film to celebrate the launch of our Tiffany Paper Flowers® collection.
ST VINCENT x TIFFANY & Co.
Icons meet in a new campaign from Laird + Partners for Tiffany & Co- The New Fragrance. Taking the Beatles classic, "All You Need Is Love" and having it reimagined by the dynamic ANNIE CLARK aka ST VINCENT.
"It's almost as if you can't remember a time when you didn't know the entire Beatles catalog," St. Vincent says. The cover soundtracks the campaign for Tiffany & Co.'s new fragrance, an Eau de Parfum that boasts hints of mandarin orange and iris. It's bold but elegant, much like indie rocker Clark herself. ~ Harper's Bazaar
JEFF KOONS X LOUIS VUITTON
The prospect of tapping into the musical mindset of Jeff Koons seemed exciting to us. So when given the opportunity to work on his "Masters" collaboration with Louis Vuitton, we dove right in!
Musically we wanted something bold, sexy and passionate. With attitude and tension. The portraits all feel connected in a way, so touching upon that felt important. We also strove to find something with nuance and a suggestive quality. Plus a nod to current pop culture.
Jesse Rose & Trozé's "Chocolate" immediately felt right. What next? The party celebrating the collaboration at The Louvre of course! We created a 20minute looping playlist for the "Experience Box" -- a large cube 25x20 feet. With giant LED screens playing slower edits of the animations on all sides. Trap music with it's unhurried and deliberate pace, became the soundtrack. And we mixed the music so that each song flowed into the next, giving the installation and playlist a cohesive quality.
If that wasn't enough, we created a 90minute playlist for the entire party! Similar blueprint, Trap music where each song transitioned into the next allowing the songs to feel connected. We chose clean versions of songs, where you might be able to interpret the explicit language without actually hearing it. And in a way, that felt very in line with Jeff Koons.
Warby Parker Presents:
Beck Song Reader
When we heard Beck was releasing an album in sheet-music form, we knew our friends at Warby Parker would be smitten. The compositions from his Song Reader had never been recorded when SP teamed up with Warby and Beck to deliver a newly recorded album of the 20 songs from his original Song Reader book.
Co-produced by Poster and Beck, the album included Beck compositions performed by Jack White, Jarvis Cocker, Laura Marling, Sparks, Loudon Wainwright III, Norah Jones, Fun. and Jack Black. There is also a tune by Tweedy, the new band formed by Wilco's Jeff Tweedy and his son Spencer.
More than meets the eye...
Oh, the frames? In conjunction with the Song Reader, Warby Parker teamed up with Beck on a limited-edition pair of frames that are equal parts eclectic and charming.
We also presented a series of live events in both LA and SF preceding the release of the Song Reader. There was a special performance with the Los Angeles Philharmonic and a slew of guests at L.A.'s Walt Disney Concert Hall-- Jarvis Cocker, Jenny Lewis, Childish Gambino, John C. Reilly, Jack Black, Van Dyke Park, and Moses Sumney, among others.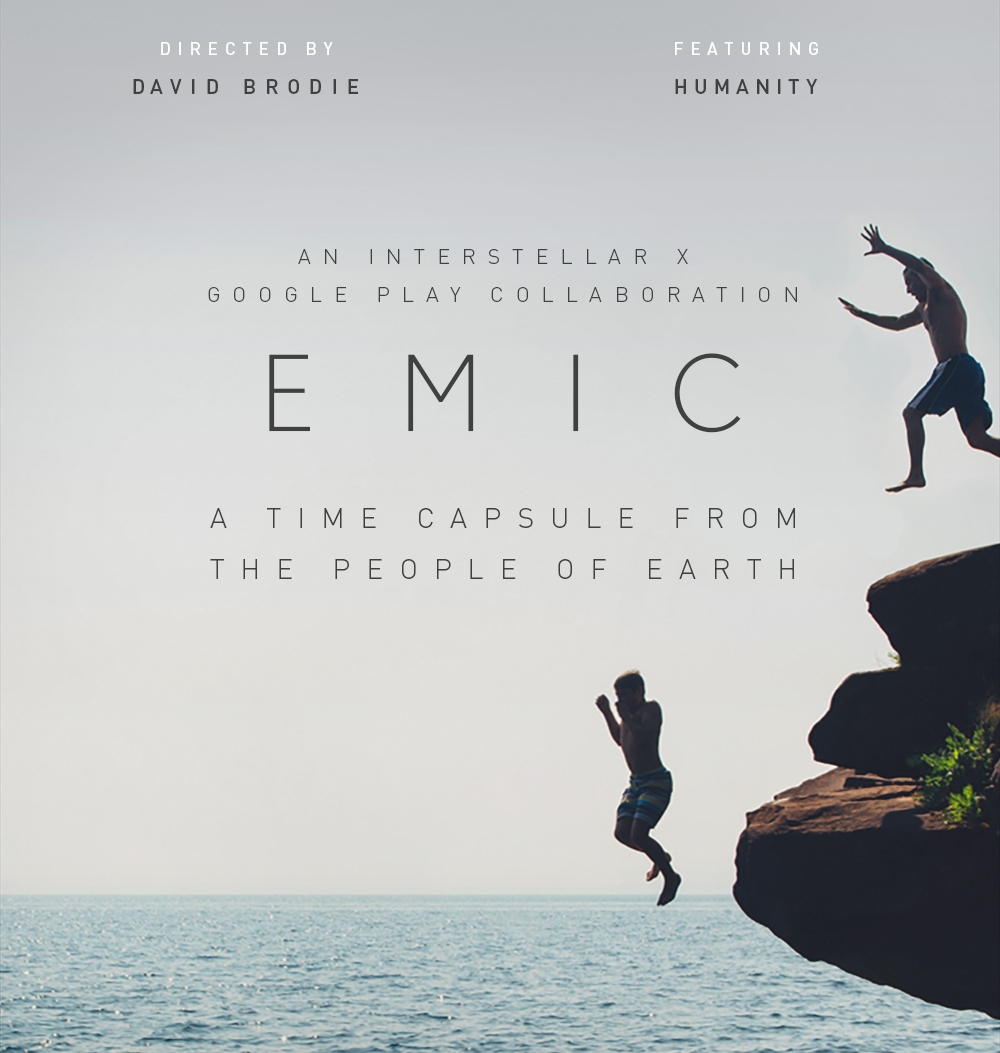 EMIC: An Interstellar x Google Play Collaboration
Inspired by Paramount's Academy Award-winning epic, Interstellar, Google Play today announced the release of EMIC - a short film comprised of almost 8,000 video submissions from people all around the world, highlighting the human spirit and how it manifests itself around the globe. From director and editor David Brodie (The Witness, Survivors) and creative director Angus Wall (The Girl with the Dragon Tattoo, The Social Network), the short film will be available for free on Google Play timed to today's digital home entertainment release of Interstellar!
Don't miss this special little slice of humanity with a gorgeous score by Judson Crane and "Glory," a new track by Jean-Michel Jarre and M83 off Jean-Michel Jarre's forthcoming Studio album. All music supervised by SP's Meghan Currier.
See the trailer here
And the full film here (for free!)
Search Party has had a unique music partnership with Tory Burch for years. As a brand, and music lover herself, Tory constantly finds a way to create a cultural conversation between music and fashion.
As part of our partnership, SP helps create unique playlists for the Tory blog as well as in-store events and runway shows. We select music for look-book videos and advertisements and pair artists with the fashion house through unique co-branding opportunities.
Warby Parker Concert Series
If you find yourself near a Warby Parker location this summer, be sure to check the date! We've curated a summer series to keep you cool through the heat and dancing into the night. Here is a taste of just a few of the incredible artists that will be in the mix:
June 2, Jesse Boykins III
July 7: Givers
August 11, Japanese Breakfast
August 18, Autre Ne Veut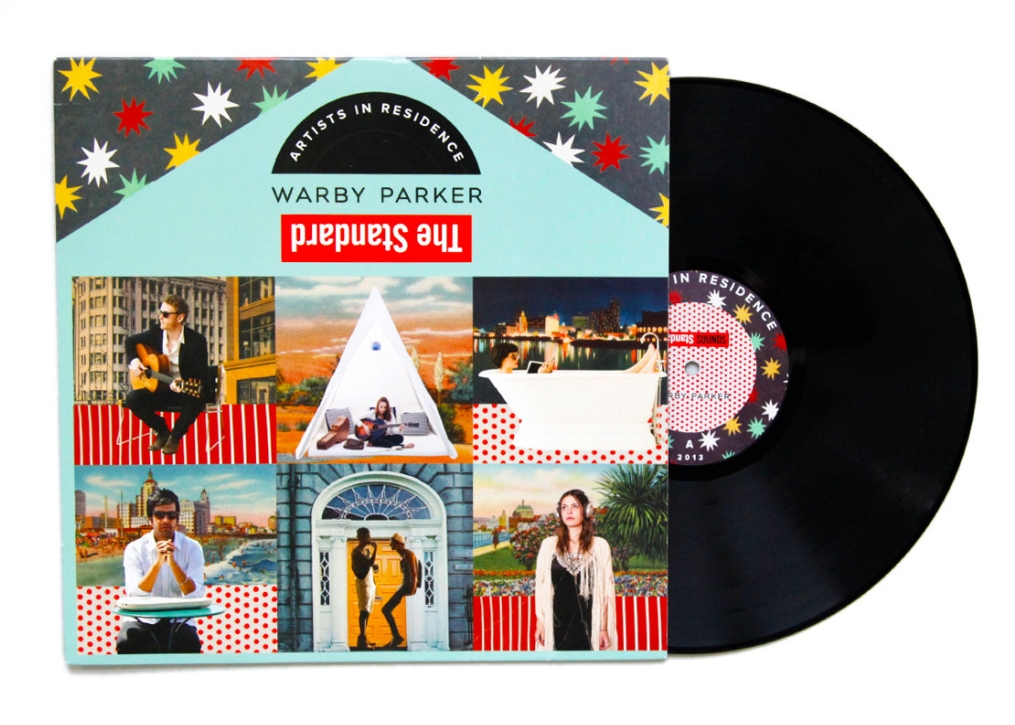 Warby Parker x Standard Hotels:
ARTIST IN RESIDENCE
Search Party came together with the Standard hotel to create a unique ArtistsIn-Residence program to foster the hottest and best emerging talent out there. Randall Poster and Annie Ohayon (mastermind behind East Village Standard Sounds) selected six artists to spend a week at each of the Standard properties and compose two original songs a piece. The artists, whose work was packaged in a limited-edition LP just in time for Xmas, included Sophie Auster, Nikki Lane, Teddy Thompson, Cillie Barnes, Goldspot's Sidd Kholsa, and more! Once the compilation was done we welcomed it into the world with a release party at The Standard's East Village, NYC location. Several of the Artists on the album also performed live at the event!